Larsens bakery, Vanse
.
Photo
:
Rita Tvede Bartolomei
Larsens bakery, Vanse
.
Photo
:
Rita Tvede Bartolomei
If you go to Amerikanske Lista in Vanse, you quickly find out that the residents have a big heart for American culture from the 1950s and 1960s. Whether it's Amcars, 110 volt electricity or cinnamon gum.
By Rita Tvede Bartolomei
Kristy Kongevold, Vanse
.
Photo
:
Rita Tvede Bartolomei
Kristy Kongevold, Vanse
.
Photo
:
Rita Tvede Bartolomei
Many Norwegians went over to the United States to follow the American dream as migrant workers. People from Lista certainly did too.
- They brought a lot home from the USA. Not just in the "trunk", or the American suitcase, his. They brought with them complete kitchens, windows, and bathroom furniture, sofas and electrical equipment. Therefore, it was not surprising that they also got a 110 volt power outlet installed at home at Lista. A transformer in the fuse box made it possible to use electrical items from the USA, says founder of Vanse's own department store (Trunken), Christina Helene Lyngsvåg Breisnes.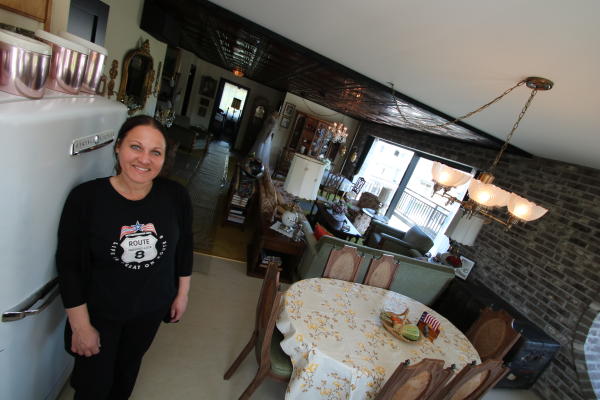 Come back with more than inspiration from the USA
From the end of the 1890s and beyond the 1960s, several thousand people left Lista for the USA (vividly described in several books by Professor Siv Ringdal). Most people from here traveled to the east coast. New York and the borough of Brooklyn were favourites. Although Vanse is a small place in the true sense of the word (2016 inhabitants), the emigration has created a strong, American identity and connection to American retro culture. In particular, 1950s and 1960s New York and the borough of Brooklyn are a favorite and recurring theme at Lista og Vanse.
- My great-grandparents, on both sides, traveled to the United States. And my uncle was in the country for 50 years. When I was 17, I myself lived for a long period, with family in the Midwest, Iowa and Phoenix Arizona. Typical of Lista and Vanse is that a lot of people moved to the USA in the 50s and 60s in particular, but also that many came back after a few years away, says Christina Helene.
Christina has decorated the apartment in an authentic style.
Amerikansk leilighet
.
Photo
:
Media Sør
Amerikansk leilighet
.
Photo
:
Media Sør
In the store Trunken, she sells goods imported from the USA. Two floors filled with delights such as food and sweets, ornaments and clothes.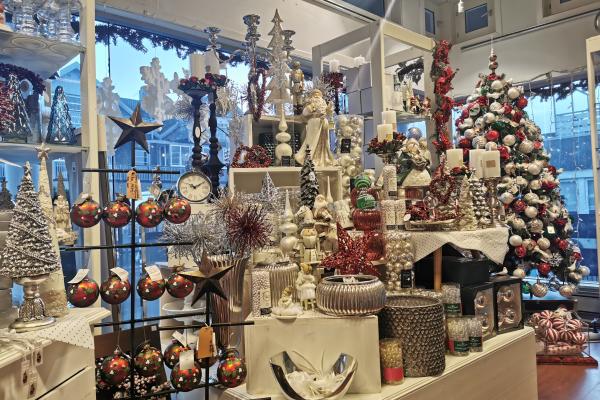 Trunken, Vanse
.
Photo
:
Rita Tvede Bartolomei
Trunken, Vanse
.
Photo
:
Rita Tvede Bartolomei
In the center of Vanse you will find Norway's first, official, American street name: Brooklyn Square (2009). Central Station (bus and taxi), Trunken and Larsen's Bakery are also located along this street.
- The fact that Lista people brought back the American lifestyle, objects and traditions has shaped the culture here. The families at home grew up being sent exciting, chewing gum-scented America packages. The packages contained all the special things they had there - which were not available in Southern Norway or in Norway, she says.
Takes people back to memories of the USA
Almost 20 years ago, Trunken was opened. The anniversary is on the American holiday Thanksgiving, 25 November in 2024. For several years, the building with 1,500 square meters of usable space was the premises of Vanse's agricultural office. A married couple previously ran a furniture store in the same premises where Trunken is now. They had also emigrated to New York, before returning home in the 1970s.
- People thought we were quite crazy, who started something like that in little Vanse, says Christina Helene Breisnes and laughs.
19 years later, the madness has turned out to be a success, and Trunken has become an institution: both for native USA nostalgics of all ages, and for those traveling to or passing through the town. Although Christina Helene has over 100 suppliers, and has filled Trunken with a number of American, well-known products (including a whole section of Rockabilly clothing), Trunken is more than a shop.
- My wish is to take people back to the memories they have of the United States. Whether they were there a long time ago or were just visiting. They will have a great experience and have a pleasant time here with us. That is why we have invested in things that can remind them of the United States, she says.
The trunk is not a random choice of name, because it is a direct reference to what people brought back with them in the trunk; The America Suitcase.
- Some time ago we started collecting original American suitcases, and so far we have received 116 pieces. Everyone is completely different. A bit like humans. And regardless of whether we have some scrapes and scratches, we still work, she says and smiles.
Vanse city center has several American elements, such as Central Station and Subway signs.
Vanse sentrum
.
Photo
:
Rita Tvede Bartolomei
Vanse sentrum
.
Photo
:
Rita Tvede Bartolomei
An American apartment that brings good memories
In 2023, Trunken got a new attraction on the second floor, which is literally a journey back in time. Here, Christina Helene, her partner Rune Skjoldal and Christina Helene's mother: Liv, have built a completely authentic, American retro apartment.
The fictional "residence" is complete with a kitchen, living room, bedroom and bathroom. All of the furnishings are American, and the furniture can probably best be described as in immaculate condition. This despite the fact that many of the furniture and interiors are over 70 years old. When you enter this reconstructed apartment, you really feel taken back in time.
- It has required a lot of work to get hold of everything in the interior, and to recreate it as we wanted. The kitchen here is solid wood and from the USA. It was in an old house on Lista, and we were lucky enough to get hold of it, he says.
One of the wedding dresses in the apartment from the USA, which is in the bedroom, is among the many donations given by local people: With a picture of the bride on the wall behind.
- It was donated to us by the family of a woman from Vanse, who had married there. The children were very moved when they saw the dress as part of the exhibition, says Christina Helene.
The wedding dress was donated by a woman from Vanse who got married in the USA.
Amerikansk brudekjole
.
Photo
:
Rita Tvede Bartolomei
Amerikansk brudekjole
.
Photo
:
Rita Tvede Bartolomei
A bakery in the American spirit
At Vanse you can also visit the bakery where mother and son Larsen (Joakim and Solveig) can be found behind the counter.
- If I were to start something first, it would have to be something American. I myself was born in the USA and am an American citizen - and have always been a little Americanized. That's why we wanted to do it properly, so that it became an American diner style, says general manager Solveig Larsen about the bakery, which opened in winter 2019.
At Larsen's Bakery, pancakes with maple syrup and bacon are served, among other things. But also BLT sandwich (bacon, lettuce and tomato) and toast with egg and bacon.
- It's fun to experience that people also come here, just because they've heard about the place, she says.
Depending on the season, you can find American apple pie, pumpkin pie and lemon meringue pie on the menu. True to the retro-American tradition, the decor is in diner style, with a whiff of 1960s aesthetics.
The hairdressing salon with a very special owner
Less than a five-minute walk down from Brooklyn Square, you'll find Beauty Studio. This is a slightly different, and very personal hairdressing salon, run by Kristy Kongevold. The salon is also a showcase for local arts-and-crafts enthusiasts and hobby artists.
- Many hairdressing salons become as sterile as an operating theatre. But I have decorated and embellished here myself with my own paintings and American effects. Now I am lucky enough to have gained many regular customers over several years. We are confident in each other, and have almost become like family, says Kristy.
Kristy is a central figure in the American Lista. The creative and colorful figures you see placed around Vanse are her work. Such as the radar pair Pop Eye and Olive Oyl. They stand right outside her salon. Now she has lived in Farsund for over 40 years, but comes from St Louis in the Midwest. Her father, on the other hand, was originally from Farsund.
- My dream now is to have a really grand Halloween celebration at Vanse. A big city party. In the meantime, I run around and do some witchcraft here, she says.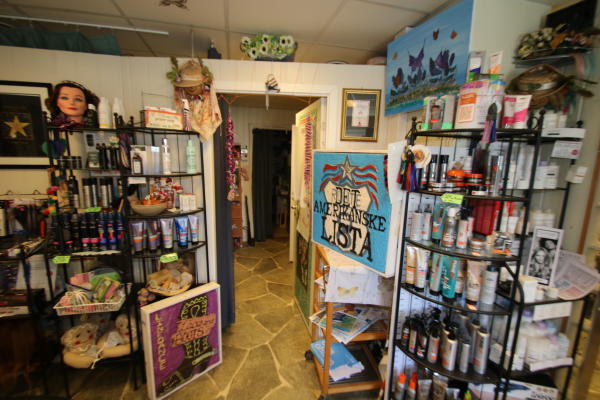 Have you seen NRK's mini-documentary about American Lista? Take a look at the short film from 2010 here.
But until that dream hopefully comes true, in the last week of October you can always go to the Halloween celebration at Kristy's lair on Radiosletta. A tradition that has been going on for over 10 years. Then she and her husband build an 80-metre-long labyrinth, which is decorated with scary effects.
- Local children help scare. People come from Oslo and Stavanger to see our week-long Halloween celebration, says Kristy.
Kristy's Halloween on the løa has simply become an institution at Vanse.
- It is a family-friendly concept for the whole family. We have set it up so that everyone can contribute a few kroner, and whatever they feel they can afford. The income always goes to the local Red Cross branch at Lista, says Kirsty.
Visit the American festival at Vanse? The town has its own American Festival, which was started in 2007. Every single, last weekend in June (Thursday through Sunday) you can experience a festival that was created to pay tribute to the strong connection to the United States. The program includes concerts, a food competition and an Amcar display, parade and dance through the city.
Solveig Larsen at Larsens bakery.
Larsens bakery, Vanse
.
Photo
:
Rita Tvede Bartolomei
Larsens bakery, Vanse
.
Photo
:
Rita Tvede Bartolomei