The migratory brown trout (Salmo trutta) or more widely known as the European sea trout is a great prize amongst many fishers. This dazzling bar of silver with it's fine tasting delicate pink meat, often comes undeservingly second to the Atlantic salmon (Salmo salar).
What is quite unique with this fish, is that along the Southern Norwegian coast, the sea trout can be fished not only free for all ages but also all year round. Our hunt for this fish more often than not, takes us to some naturally beautiful landscapes and experiences thereafter.
With average sizes being a humble 500g (1lb), sizes of up to 9.5kg (21lbs) and fish of 5-6kg (11-13lbs) are caught each year. The Norwegian law states that all sea trout under 35cm shall be returned unharmed, also no fishing closer than 100m to streams flowing into the sea.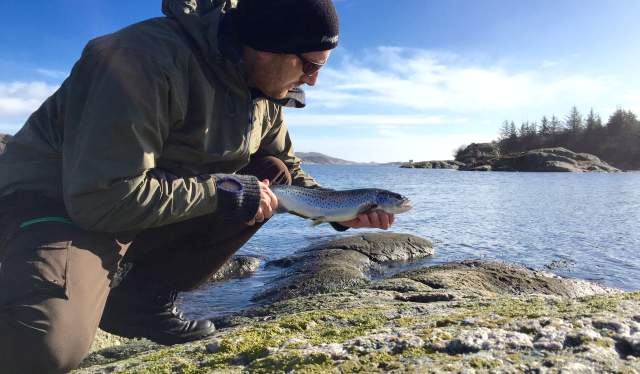 Winter sea trout from Skjernøya, Lindesnes
.
Photo
:
AnglerPilot
Winter sea trout from Skjernøya, Lindesnes
Finding sea trout
On the hunt for everything from sandeels (Hyperoplus lanceolatus) along the beaches, to small fish and shrimps amongst boulders and larger baitfish in the fjords or in more open water, they can be found in a variety of environments. Common traits are that sea trout are dependent on a certain level of salinity, and therefore the water temperature often dictates their location. As a general rule of thumb, as the water cools, they search for more brackish areas close to small streams flowing into the sea or in fjord areas. As the water warms, they wander to more and more open water. Also, their need to spawn towards late autumn sees them returning to the streams to which they were born. But if you find some form of water current, or eelgrass (Zostera marina), a sudden sloping bay/beach or a sea bottom with a 'leopard' like appearance, you're sure to find sea trout.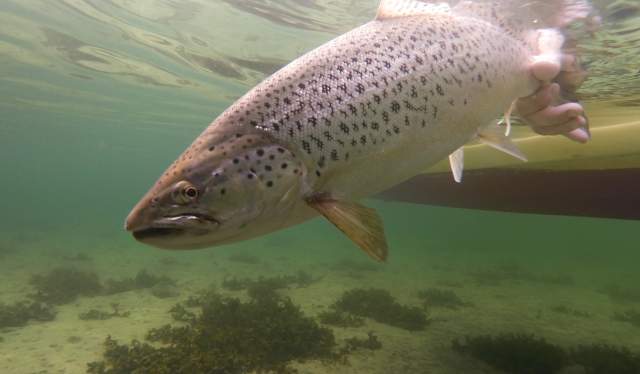 Underwater sea trout fishing
.
Photo
:
Johan Persson Friberg
Equipment for sea trout fishing
There are many ways to catch a sea trout from fly fishing to lure fishing to bait fishing. A good starting point for lure fishing is a 2.7-3.3m (9-11ft) fishing rod with a recommend casting weight of 7-28g, coupled with a size 2500 – 3000 reel and either 0.15-0.20mm braid or 0.25-0.30mm monofilament. Lures that imitate their natural food is always a good place to start. Our favorites are Rapala X-Rap countdown in black and silver, Savage Gear sandeels, different smaller fish and sandeel rubber imitations with varying jighead weights, and a good old classic Toby from Abu Garcia I black and silver. Another effective method is using a casting float coupled with either a fly or small wobbler.
For fly fishing we generally use a faster actioned 2.7m (9ft) #7 rod together with a corresponding reel, a slow sinking or fast intermediate fly line and fluorocarbon tippets of between 0.22-0.28mm depending on the size of the fly. Excellent flies varying from hook sizes 2-10 to start with are salmon pink or orange shrimps like a 'Pattegris' shrimp, various fish imitations like a Leftys deceiver or flatwings in black and white, olive and white, surf candys in olive and white, and good old wooly buggers in either black or olive.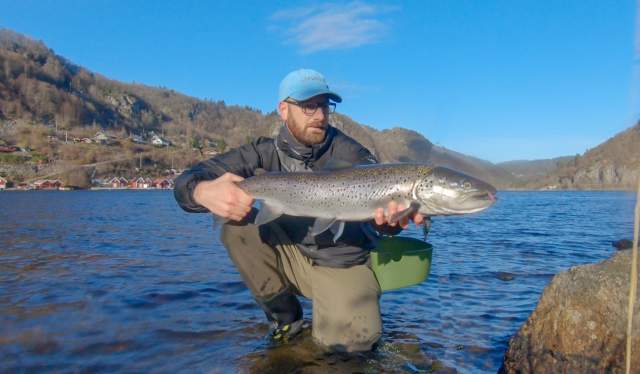 A big sea trout in Lenefjorden, Lyngdal
.
Photo
:
AnglerPilot
A big sea trout in Lenefjorden, Lyngdal
Fishing Techniques for sea trout
Being a fish, the sea trout is a cold blooded animal and its activity level affected by the water temperature. So, another good rule of thumb is if the water is cold or very warm, slow retrieves. Between 6-14℃ is when the sea trout is at its happiest and most active, in such conditions a fast retrieve is what they need to get triggered. Though with this said, vary retrieves with pauses. Get ready to get a bite on the pause or start after you begin to retrieve again. Be aware as sea trout are often close to the shore, so your first casts should be well away from the shore. Also don't wade too far out as you often wade into feeding sea trout and scare them.
Boat Fishing
Another very effective form of fishing is from a boat. Whether it be trolling (driving slowly past sea trout hotspots pulling lures through the water) or casting from a stationary boat, boat fishing opens a world of possibilities. The boat provides not only a vessel to quickly get you from spot to spot, and often to those spots that are hard to reach from land, but a platform to cast from, free of trees and bushes waiting to catch you fly! If you have your own on a trailer, Southern Norway has many boat ramps where you can launch from.
There are also many places to rent boats, here are some examples of fishing resorts with boat rental:
Where to buy equipment and get local tips
In Southern Norway we are lucky enough to have a few specialist fishing shops with very knowledgeable staff and a relevant stock of essential sea trout fishing equipment. Beginning from West then to East, Lyngdal Jakt of Fiskesenter in Lyngdal, Grønberg Sport in Kristiansand, and lastly Arendal Jakt og Friluft in Arendal.
Other ways of finding promising spots are with the mobile phone app Fiskher but also the book 'Sjøørret', though written in Norwegian also has many fishing maps with magical spots to try.
If you need further guidance with either where to fish, which techniques to use or developing your fishing skills, maybe a professional fishing guide is something for you?
AnglerPilot - Professional guiding for sea trout along the Southern Norway coast (based in Kristiansand)
Sørlandet Fiskeguiding - Guiding for sea trout in southernmost Norway (based in Grimstad/Lillesand)
Pack your bags with food, here's an interactive map showing good spots where you can spend your day on the hunt for sea trout.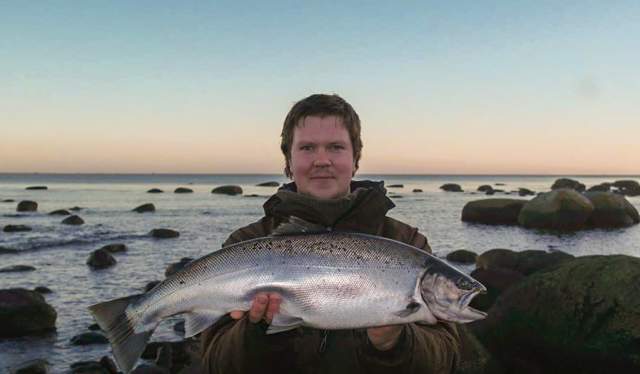 Big sea trout from Lista
.
Photo
:
Frank Hansen
If you need further guidance with either where to fish, which techniques to use or developing your fishing skills, maybe a professional fishing guide is something for you?
Fishing Guide - AnglerPilot
Combine Southern Norway's natural beauty and great fishing, with a guiding service based on a 'natural experience of quality'. AnglerPilot individually cater their service to all ages, abilities, fishing experience and fishing goals.
Ryan Marchese, the owner of AnglerPilot is a EFFA and FFI certified professional fishing guide and passionate fisherman. AnglerPilot is based in Kristiansand but deliver guided trips all over southernmost Norway.
Please get in contact regarding your needs:
Tlf. no: +47 909 15 846
Email: ryan@anglerpilot.no
Website: www.anglerpilot.no
Read more about fishing and outdoor life in southernmost Norway
Your Recently Viewed Pages