With a climbing season which lasts from April through to October, not to mention opportunities for outdoor climbing at times during the winter too when the weather is good, Southern Norway is the perfect destination for your next climbing trip.
In many locations across Southern Norway, both adults and children can combine climbing for beginners and more experienced climbers with other activities. In Southern Norway, you will find crags and boulders, the exhausting Urdviki in Bygland, Via Ferrata routes and exciting climbing parks for the whole family. Experienced daredevils can even go ice-climbing on waterfalls, especially in Setesdal.
Crags close to the centre
"My favourite place to go climbing in Southern Norway is Urdviki without a doubt. This is a spectacular wall with challenging, long routes on solid rock. A climbing wall with some superb grade 9 routes. I also like to head out to Paradisveggen. There really is so much fantastic climbing across Southern Norway," says Karoline Kaasa Dahl. She was first bitten by the climbing bug in 2013, when she spent three years in Bolivia. After ten years abroad, she returned to Kristiansand and Norway, with climbing shoes and rope in tow. And that is how she came to rediscover her own country.
"Norway has so much rock! What is unique about Southern Norway, and Kristiansand in particular, is that there are so many crags close to the city centre. You can reach many excellent climbing areas by bike. Crags do not need to be very high for the climbing to be good, and there are many excellent bouldering crags close to Kristiansand," says Karoline.
Bouldering is climbing on low crags or large boulders without ropes, but with a crash mat placed on the ground as a landing mattress.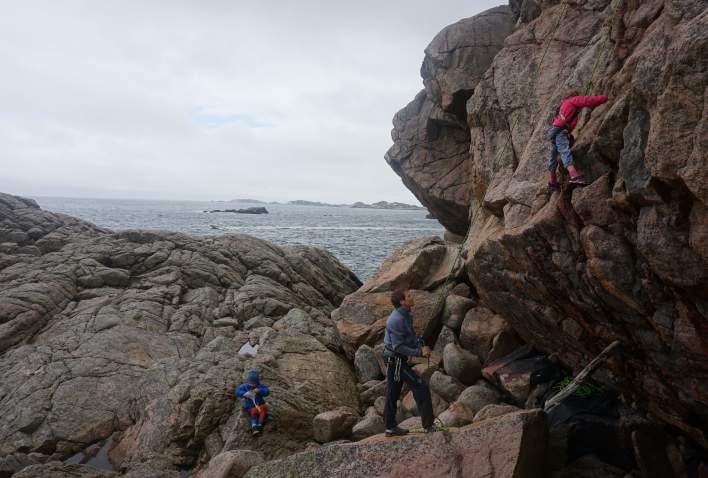 Climbing and swimming
Per Thomas Skaanes is head of outdoor recreation at the Norwegian Trekking Association (DNT) South. He agrees that Southern Norway is a great place for climbers.
"The crags are very accessible here; it's a short approach walk, the weather is often good and the crags are dry. There is also a wide range of difficulties, covering everything from beginner to expert routes. The routes are also well-maintained.
"In Kristiansand, there are many outdoor bolted sport climbing routes. You will for example find routes on Odderøya, Sødal, Storheia and Eg, to mention just a few. There are many places in Søgne which are being developed too. If you're looking for longer traditional climbing routes, Skråstaddiederet which has a route from Otra to the summit of Skråstadheia, is highly recommended. Southern Norway also offers bolted routes with several rope lengths, including Slettafjell south of Bortelid. There are also many excellent places in Setesdal. If I had to point out somewhere very special though, it would have to be Løefjell at Brokke, which is a climbing area with routes suitable for all levels of climber," says Per Thomas.
"Southern Norway offers climbing for every level, so there's something for everyone here," says Lars Erik Omland. He was leader of the CKK climbing club until 2018 and knows the climbing community and the area well. The CKK climbing club is an important centre of expertise for climbing in Southern Norway.
"In the area, you'll find both easy and hard sport climbing routes, as well as long multi-rope routes, not far from the centre. The area also offers some excellent bouldering. If the winter is cold enough, ice climbers can also find tempting ice routes. During the summer, families should head out to Ulvsvika in Mandal for a day's swimming and climbing. Here, you can combine climbing straight up from the pebbles by the shore with swimming and beach fun in the same place," says Omland.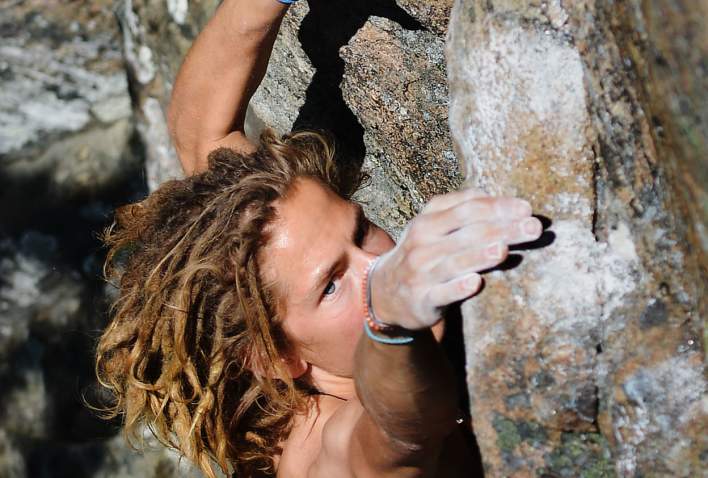 Tips for beginners
If you are a beginner, you should seek advice from people with more climbing experience than you. The Norwegian Trekking Association or the local climbing club can be useful sources of information.
It is a good idea to go on a course to learn safety and climbing techniques right from the start. Safety is particularly important in climbing, as misjudgements, poor protection or the incorrect use of equipment can have fatal consequences. Many good climbing guides are available for the region.
Tips for more experienced climbers
More experienced climbers can also find exciting routes close to the city centre. In Kristiansand, the easily accessible Sykehusveggen is highly recommended, as it offers classics such as H5N1 (7/7+) and Rigor Mortis (grade 8/8+), or try out Kristiansandsskolen, the city's first grade 9 climb.
More experienced climbers will also find excellent challenges in the mountains north of Bortelid, northwest of Brokke and north of Bjørnevasshytta. In these areas, there are long, natural routes which are unclimbed and offer expeditions for adventurous experts. You should also try out the world-class sport climbing on Urdviki near Bygland.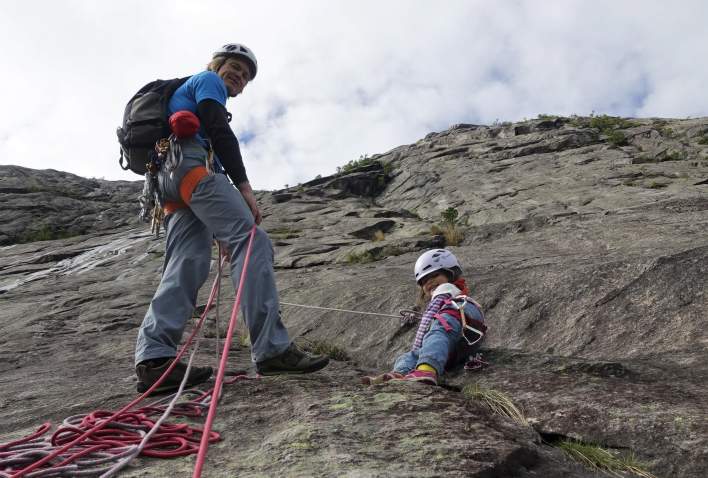 Recommended places in Kristiansand: 
Odderøya, offering a combination of swimming and barbecuing. Routes for children, beginners and more experienced climbers.
Ravnedalen incorporate a lunch break with a burger at the Cafe Generalen. 
Storheia offers both climbing and swimming in Storevann. Routes for children, beginners and more experienced climbers.
Paradis offers challenges for more experienced climbers. 
Tangoveggen, in Søgne, offers long, challenging routes.
Sykehusveggen in Baneheia, offers a good training session. 
Other recommended places in Southern Norway: 
Setesdal has some great long slab routes and sport climbing. Urdviki, a spectacular wall with challenging, long routes on solid rock.
Mandal offers many excellent climbing areas with a lot of exciting developments under way. 
Modalshorn in Birkeland. 
Boulderers should make the trip to the magical forest on Justøya. 
Climbing in Southern Norway
Climbing parks in Southern Norway
Climbing walls in Kristiansand
Samsen
Spicheren at the University of Agder
Read more about climbing in Norway.
Visit the world's tallest free-standing climbing tower
Via Ferrata routes in Southern Norway
Climbing parks in Southern Norway
More natural experiences in Southern Norway
Your Recently Viewed Pages