Biking holiday along the Norwegian Riviera
Experience Southern Norway's white coastal towns by bike. This route takes you from Risør to Lillesand and Kristiansand.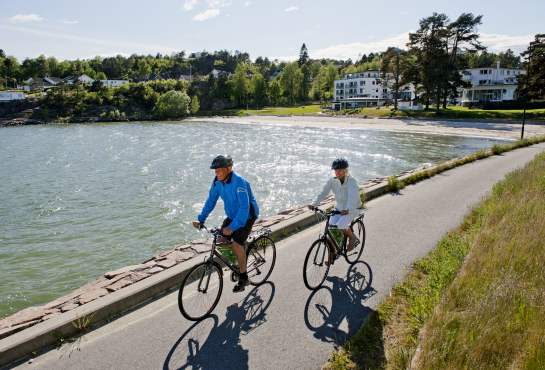 Biking in Fevik, Grimstad
.
Photo
:
Terje Rakke / NordicLife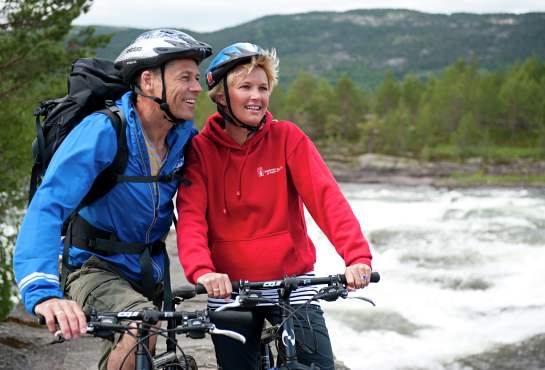 Biking in Evje
.
Photo
:
Terje Rakke / Nordic Life AS - Visitnorway.com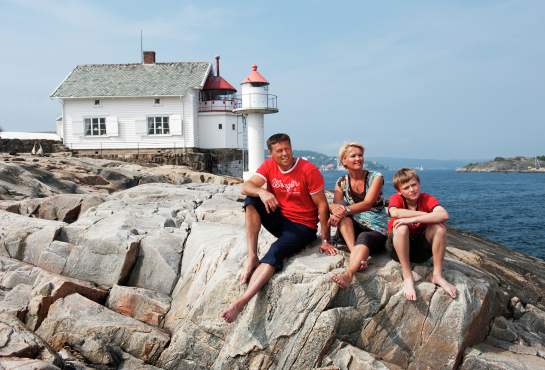 Stangholmen lighthouse
.
Photo
:
Terje Rakke / Nordic Life AS - Visitnorway.com
Biking at Otra river
.
Photo
:
Terje Rakke / NordicLife
Experience "the white string of pearls"
The small towns with their white wooden houses and narrow streets are like beads on a string along the southern coast of Norway also known as the Norwegian Riviera. The best way to experience "the white string of pearls" is to travel from town to town, at your own pace, through the outports, narrow alleyways, along the coast and by ferry to the little islands that lies along the coast. This year we can offer you this, whether you come with your family, your friends, colleagues, visitors, or you seek peace alone. Bring your own bike or rent one at the tourist offices. Start in Risør, or at the other end - in Lillesand.
Day 1: Risør
If you arrive by train from Kristiansand or Oslo get off at Gjerstad train station. From Gjerstad you bike through the inland before arriving to the coastal town of Risør. Be sure to enjoy the day in Risør famous for for the beautiful old white wooden houses. Accommondation at Risør Hotel.
Day 2: Risør - Gjeving / Tvedestrand
Bike through the woods heading for Lyngørporten / Gjeving and your accomodation at Bokhotellet Lyngørporten, located right on the shoreline. Do not miss a trip to the island community Lyngør, just a short ferry- or taxiboatride away.
Day 3: Gjeving - Tvedestrand - Arendal
After a night at Bokhotellet Lyngørporten, embark on the journey that is edge-to-edge with the sea and passing through small towns, the summer town Tvedestrand and through Kilsund and Narestø to Arendal. In Arendal an ice cream or a fishburger in the city harbor "Pollen" is mandatory. Take time out for a ferry ride to Hisøy and Tromøy or the historic outport Merdø. Accommondation at Clarion Hotel Tyholmen on the waterfront in Arendal.
Day 4: Arendal - Fevikkilen
After a good night's sleep at the trip continues to Be sure to take a bath and stop for refreshments and accommondation at the historic Strand Hotel Fevik.
Day 5: Fevik - Grimstad - Lillesand / Kristiansand
In Grimstad you can enjoy the narrow streets and shop in the little boutiques in town. The night will be spent at before you continue on for Lillesand. You can choose a somewhat simpler route along highway 410, or take in the historical route through the forest "west coast highway". Arriving in Lillesand and you will be accommodated at the historic hotel Lillesand Hotel Norge.
Day 6: Lillesand / Kristiansand
You can bike or take the local bus to Kristiansand, going home or further on traveling to western Norway.
Tour suggestions - 4 days / 3 nights
You can choose to start your trip in either Risør or Lillesand. If you start in Risør the route will look like this:
Day 1: Start cycling from Risør to Lyngørporten / Gjeving, where you spend your first night. Approximately 21.6 km or 1.5 hours.
Day 2: Cycle from Gjeving to Arendal and spend the night at the Clarion Hotel Tyholmen. Approximately 46.2 km or about 4 hours.
Day 3: Cycle from Arendal to Grimstad, approximately 24.2 km or 2.5 hours. And further on to Fevik, approximately 15 km or 2 houers, and spend the night at the Strand Hotel Fevik.
Day 4: Cycle from Fevik to Lillesand, where the tour ends. Approximately 29km, 2 to 3 hours depending on the choices.
Directions and time are based on a normal pace, without breaks. You can take the local bus from Lillesand to Kristiansand.
Attractions along the route