Visit Åmli
Åmli is an inland municipality in Southern Norway that offers wonderful nature and excellent opportunities for bathing, climbing, canoe and bicycle tours. Here will also find Rjukan waterfall in Tovdal, Hillestad Gallery, Pan Garden and Trogfjell Via Ferrata.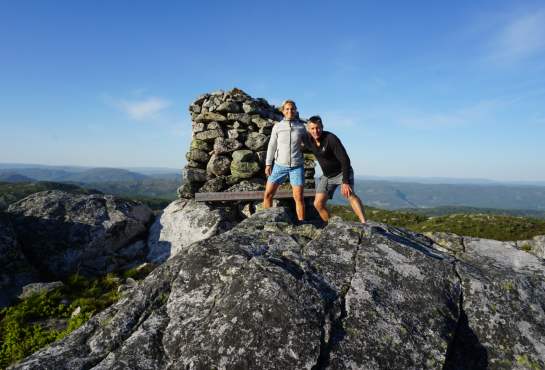 Toppen av Lindeknuten i Åmli
.
Photo
:
Familien Hehr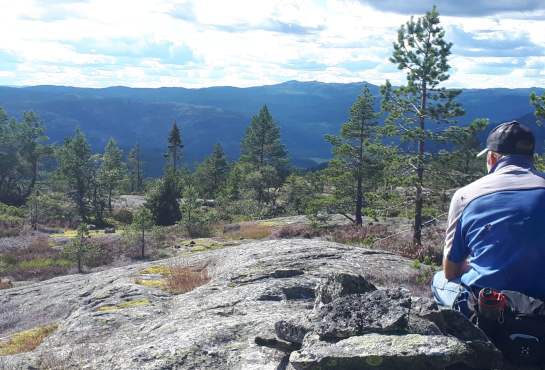 Vardeheia mot Lindeknuten, Åmli
.
Photo
:
Åmli turistforum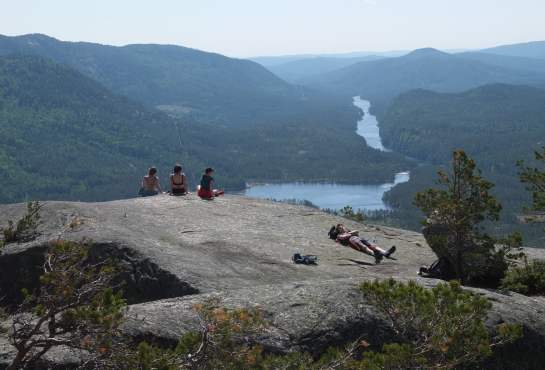 Napen i Tovdal, Åmli
.
Photo
:
Ståle Knudsen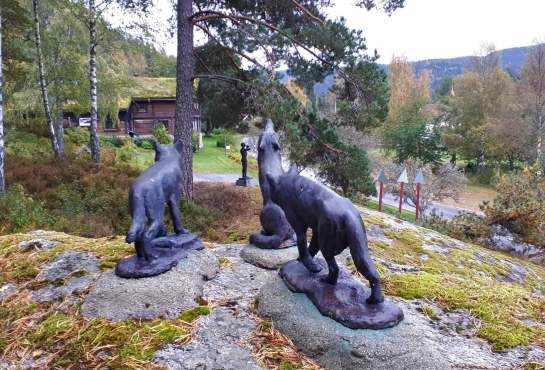 Ulveskulptur i Åmli av Peter Valør
.
Photo
:
Hillestad
Recreational activities in Åmli
Whether in a canoe, wearing hiking boots or on skis, recreational activities in Åmli offer many and varied nature experiences. Åmli Tourist Forum has signposted and marked 20 different walking routes in the municipality. There are information boards and signs at the start of the nature trails. At the head of the trails you will find a guest book and a card punch. Those who complete all of the trails receive a prize! You can also register your trips on telltur.no. Read more about the Top 20 Trails. You can also download the brochure Top 20 Åmli Trails.
Cycling
Åmli offers excellent opportunities for cycling trips, on trails, gravel and tarmac. Skjeggedal, Tovdal and Gjøvdal are wonderful trip destinations by bicycle. All of the valleys and lowlands offer fantastic nature and several cultural heritage sites. In Øvre Ramse in Tovdal, below the mighty Napen fell there is a striking cultural landscape. Tou can also cycle the historical railway track between Åmli and Treungen.
Some recommended peak hikes and viewpoints:
Gjevdenuten (908 m asl). The path to the peak follows the Tourist Association trail from Gjevden to Mjåvasshytta. 3 km one way.
Trogfjell (430 m asl). Distance one way 1.6 km. Hike (return) approx. 1.5 hours.
Rjukanfossen (470 m asl). Fossefallet waterfall, with a height of 45 metres is the highest in Agder county. 3 km one way.
Lindeknuten (860 m asl). At the peak is a building used by the military. Fantastic view! 2.5 km one way.
Harnesknatten (208 asl). 1,5 km one way.
Vardeheia (208 asl). 7 km one way.
Download the brochure Top 20 Åmli Trails for more information.
Things to see and do in Åmli
Visit Wilderness Tverstøyl in Åmli
For more than 20 years, Visit Wilderness has arranged canoe trips, climbing and hiking. Here you can either rent equipment or book a trip with both equipment and a guide. The comfortable cabins are located in a crofter's smallholding, rich in tradition.
They also supply equipment and guide services to the Via Ferrata trail on Trogfjell. Visit Wilderness is run by the Spelten family, who moved to Norway in 2008.
Telemarksvegen route
Telemarksvegen ('Telemark Road') - Rv. 41 – runs through 6 municipalities from southernmost Norway to inland Telemark. On its way through the municipalities of Kristiansand, Birkenes, Froland, Åmli, Nissedal, and Kviteseid, Telemarksvegen offers 180 km of real Norway.
Along the route you will find art, culture, activities, local food and accommodation. Read more about Telemarksvegen.
Åmli by rail

You can reach Åmli by rail from Oslo or Stavanger/Kristiansand. The closest station is Nelaug on the Sørlandsbanen rail line. You will find updated rails schedules at: vy.no.

Åmli by road

Åmli is approximately 1 hour by car from Arendal, 1.5 hours from Kragerø and 1 hour 15 mins from Vrådal.
Your Recently Viewed Pages